Layered Glass
Intricate design layers inside tempered glass.

Our exciting Layered Glass Room Dividers are created by placing one of our incredible design layers between two pieces of clear, tempered glass. The effect of these glass interlayers can be very striking and provide a very detailed, high-end element to your room divider in any interior space. With six different, yet unique designs to choose from and our four standard frame finishes, we are sure to have a sliding room partition just for you. Our simple, yet sleek door design compliments any interior while providing superb functionality. Each door is finished on both sides with no visible screws or fasteners and utilizes a lightweight aluminum frame - making this product attractive for green projects! Our overhead QuietSlide™ track system ensures a smooth roll and quick installation, while removing any chance of these sliding doors leaving their tracks. Our six different Layered Glass options are listed under the 'Interlayer' section below.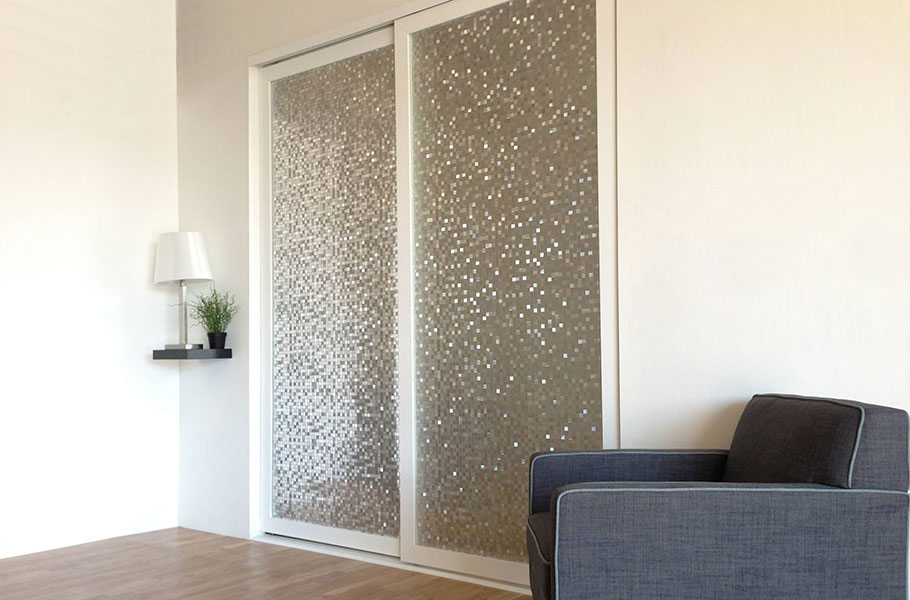 ---
Resources


Find the details here.

Don't have Adobe Reader?

Get it

here

.

Don't have Adobe Reader?
Get it here.
---
2 Lines of Track

2 Doors

3 Doors

4 Doors

5 Doors

3 Lines of Track

3 Doors

Configuration


Which fits your space best?
---
Select your sliding room divider below.
Your size.
Your options.
Your system.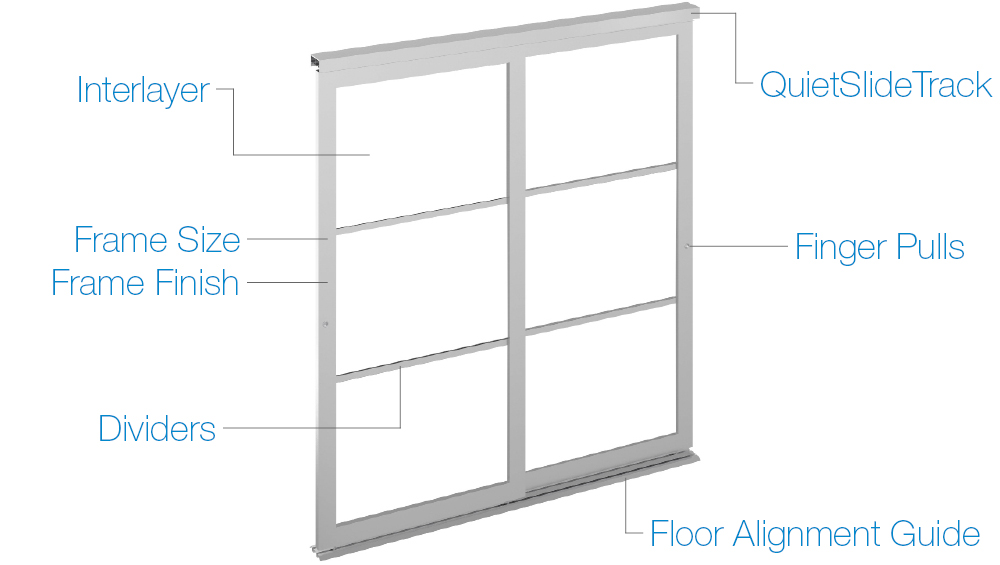 ---
Interlayer

Choose from our six unique designs below.

Layered Glass

Intricate designs created by placing one of our incredible
design layers between two pieces of clear, tempered glass.


mosaic

citylights

bubbly

cotton

pebbled

linen



---
Frame Size

Choose from our 1in or 3in frame sizes, whichever best suits your style and preference.
Frame Finish
Aluminum extruded frame with high-quality, durable anodized or powder coat finish. No visible screws or fasterners.
QuietSlide™ Track

Our QuietSlide Track is just that ... Quiet! Our track was designed with one point of roller contact, ensuring the most quiet operation possible when paired with our heavy-duty, oversized tricycle roller wheels. Our top-mounted track systems also ensure that your sliding doors will never leave or jump their tracks.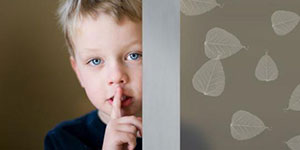 Standard QuietSlide

Surface mounted, architectural fascia included

Recessed QuietSlide

Recessed mounted, for contractor-
prepared coves and channels
---
Floor Alignment Guide

We strive to offer the most solutions to our customers. So to align your system, we offer multiple alignment methods to guide your sliding doors.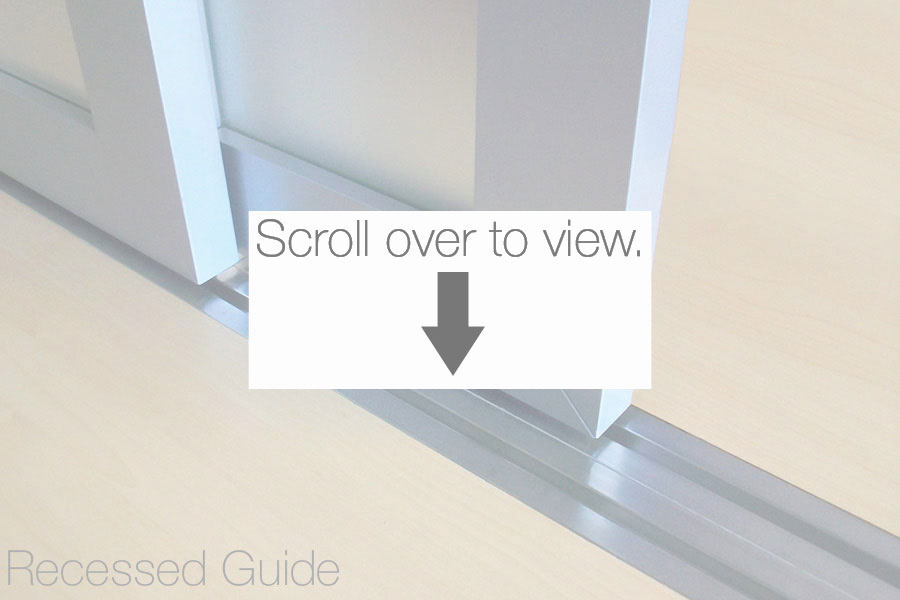 Standard Guide


Surface mounted, mounts directly
on top of flooring surface.




Recessed Guide


Recessed mounted, for smooth
integration with flooring.





Individual Recessed Guides


Individually recessed mounted, for
smooth integration with flooring.





Bracket Guides


No linear guide, for 2-door systems.
Provides zero flooring obstruction.

---
Finger Pulls

Equip your sliding closet doors with finger pulls to enhance your ease of operation. Finished in Satin Nickel, Solid Brass, or Black. Optional.


---